What Is Dry Cleaning?
It is a waterless process that removes stains and replenishes fibers to like new condition.
Why Dry Cleaning Is Good For Your Clothes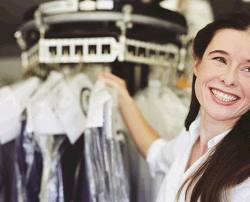 In over 80 years of researching fabrics and dry cleaning solvents, the International Fabricare Institute (of which Point Loma Cleaners & Laundry is a proud member) has never seen any indication of the dry cleaning process wearing out fabrics.
Not only do stains set with age, rendering garments un-wearable, but ground-in dirt and soil act as an abrasive, like sandpaper, causing deterioration of fibers. In addition, microscopic insects are attracted to soiled clothes causing further damage. Some people mistakenly recommend spot cleaning and pressing in lieu of dry cleaning a garment. By pressing a garment before it is cleaned, unseen dirt, stains, and body oils may be permanently set. Although it's matter of personal preference how frequently people dry clean their clothes, consumers should know they can't over-clean their clothes.
The Dry Cleaning Foundation: Pre-Spotting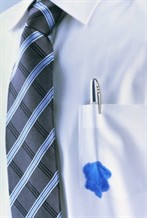 The foundation for stain removal is pre-spotting. Pre-spotting is a highly skilled process that involves analyzing what properties make up the stain, and what procedure would best remove that stain from your garment. In addition, garments are often ornamented with beads, lace, rhinestones, etc., and protecting those ornaments is also a part of effective pre-spotting.
In today's dry cleaning industry no one is required to be trained anymore as a pre-spotter. What's worse anyone can call themselves a pre-spotter now days. Our company owner and resident pre-spotter went to school, and received a certificate of completion from the State of California as a pre-spotter. He has over 31 years of expertise and experience to know what works, what doesn't, and most importantly what will damage your fine fabrics and garments in the pre-spotting process.
Only trust your clothes to the very best pre-spotter San Diego has to offer, and that's Point Loma Cleaners & Laundry. If we can't remove the stain then no one can!
Pressing : Part Of The Dry Cleaning Process
Pressing is a vital part of the dry cleaning process. Not all creases resulting from pressing are the same. Notice the creases in pants that you have had dry cleaned with us. In most cases, that crease will last through 3 or more wearings. This is not true for all dry cleaners.
There is an art to determining how much steam is required for different fabrics, how to hang it to hold the pressing for prolonged periods, and to double check for any un-removed stains. We use a wide range of products in order to give you the best possible results.
We Are Detail Oriented
No expense or time is spared in order to achieve maximum customer satisfaction. Our employees are trained to look for loose buttons, open seams, lint, and triple check for any un-removed stains. We use a wide array of techniques to make your garment look its best in your closet, in your suitcase, and most importantly, on you.
Shirt Laundering
Shirt laundering requires the use of state of the art equipment to clean and finish your shirts. Every shirt is checked for stains, ring on the collar, and every shirt is touched up for wrinkles. "Deluxe" and "Hand Finish" shirts are "Hand Pressed" and "Hand Finished" respectively and presented to your satisfaction.
We take make this part personal and do it just the way you would.
Point Loma Cleaners & Laundry is here, ready to tackle the biggest job you have, from preserving your wedding dress to cleaning your favorite down comforter. We even handle the smallest jobs like shirt laundry with the same level of care and attention you would give it yourself.